LIVE IN YOUR DREAM COUNTRY
We are advising on Turkish Citizenship by Investment (TCBI) and Global Citizenship and Residency by Investment Programs.
We are pleased to offer our advice and assistance to our Clients for them to obtain Turkish citizenship by investment conveniently in 2020.
We advise on all required steps of TCBI application and conduct and follow up all the necessary steps very diligently for the Citizens of Pakistan.
It is possible to obtain TC for yourself, as well as for your family members: your spouse (wife or husband) and children below 18 years old with proceeding one of the above-mentioned investment options according to your investment choice, and once the required conditions are duly met.
With respect to the new regulations and amendments made in Turkish Citizenship Code, foreign investors who would meet at least one of the below-mentioned investment options and criteria can easily obtain Turkish Citizenship for their selves as well as for their families:
OPTION – A
Stipulates that a minimum amount of property (real estate) investment shall be made for USD 250k on the condition to not sell the invested property within the next 3 years.
OPTION – B
Requires to deposit USD 500k in cash (or the equal value in Turkish Lira) for at least 3 years in one of the Turkish Banks.

OPTION – C
Requires that a fixed capital investment shall be made a minimum of USD 500k (or the equal value in Turkish Lira. This investment shall be confirmed by the Ministry of Industry and Technology.

OPTION – D
Indicates that TC could be obtained provided that government bonds and bills to be purchased on the condition to hold them for at least 3 years. And this investment shall be confirmed by the Ministry of Treasury and Finance.

OPTION – E
Foresees that it will be possible to obtain TC in the event of an investment to be made into a Turkish real estate investment trust, or buy the shares of the venture capital investment fund with a minimum amount of USD 500k.

How long does it take to obtain Turkish Citizenship for all family members:
It usually takes around 3-4 Months only to obtain Turkish Citizenships and Turkish Passports for both for the Main Applicant (Investor) and other family members provided that all the documentation is ready and duly compiled, and pre- and post-investment works are properly done and these would be diligently followed up. With the recent additional relaxation in law, the total period to obtain full Turkish Citizenship for all family members have been reduced to as low as 90 days only in 2020.
Benefits of Turkey Second Citizenship Program & Turkish Passport at a glance:
Full citizenship granted following background check plus Turkish Citizenship and Passport delivered quickly within 3-6 months only.
You can both have a solid investment with regular income and at the same time, you can obtain one of the most sought citizenship in the World.
Visa-Free Travel for 148 countries
E2 Treaty Country; Easy to obtain US Residency after getting Turkish Citizenship
Turkish Citizens can easily relocate inside the UK and EU with respect to the Ankara Agreement between the EU and Turkey
No Minimum Residency in Turkey Required
Ownership of one of the Top Passports in the World
Turkish passport has 10-year validity and is renewable for life
Turkey Identity Card Included
Full free Medical assistance for life for all family members
No need to declare your wealth
Turkey allows Dual & Multiple Citizenship
No Military Service required for TCBI Applicants
Pension Programs Included
Free Education and University Reimbursement Plans are provided
Future Access without a visa to the EU, 26 Schengen Zone Countries
One of the best climates in the World throughout the year
Muslim country offering a democratic and safe environment for family
A Eurasian country with a hospitable and welcoming manner to foreigners
The fantastic natural environment, wonderful beaches, green forests, and lakes
Excellent food and rich cuisine
Superb Health Facilities
Superb Educational Facilities
High Quality of Life Full
Prospective Visa-free travel to EU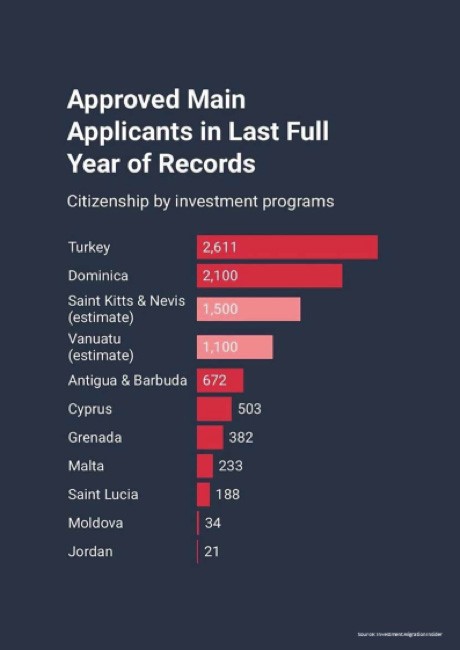 WHY TURKEY:
The wonderful climate throughout the year
Muslim country offering democratic and westernized lifestyle
Safe and happy environment for the family
Very hospitable and welcoming manner to foreigners
Easy to do Business
Highest GDP rate per capita when comparing with other CIP jurisdictions
Strong, Independent Legal System and Courts
Fair Tax System
Perfect location nestled between Europe, Asia, and the Middle East and Africa
Excellent food and rich Turkish cuisine
Superb Health Facilities
High Quality of Life
Opportunity to relocate and a live-in Istanbul, one of the most beautiful and developed towns in the World or any other part of Turkey
Real estate investment in Istanbul traditionally always doubles the original investment amount within 5-10 years.
Superb Educational Facilities
Fantastic natural environment
Regional Powerhouse
One of the largest and strongest economies in the World
G20, NATO Member
EU Candidate Country
Prospective Visa-free travel to EU (Schengen zone) for all Turkish Citizens.
Easy to obtain a long-term, multiple-entry visa to EU, US, Canada, UK and Australia for Turkish citizens